REC EQUIPMENT CHECKOUT
The equipment listed below is available for checkout at the front desk equipment computer. Equipment cannot leave the facility it has been checked out from, and must be returned immediately after use.
Badminton Rackets and Shuttlecocks
Basketballs (Men's Indoor)
Basketballs (Women's Indoor)
Boxing Gloves
Cones
Dip Chain Belts
Footballs
Frisbees
Futsal Balls
Jump Ropes (Athletic)
Jump Ropes (Recreational)
Kickballs
Pickleball Paddles and Balls
Racquetball Rackets, Racquetballs, & Goggles
Resistance Bands
Soccer Balls (Indoor)
Squash Rackets and Squash Balls
Table Tennis Paddles and Balls
TRX Training System
Volleyballs
Shower towels and hand towels will also be available for checkout by members with a purchased Towel Service.
If you have any questions regarding equipment checkout please contact us at recsportevent@vcu.edu.
OUTDOOR EQUIPMENT RENTAL
RecWell's Outdoor Adventure Program offers low rental rates on items such as canoes, kayaks, stand up paddleboards, backpacks, sleeping bags, tents, and more. We also have books and maps covering a variety of areas and activities. Rentals are available to any VCU student and current RecWell members.
The Outing Rental Center is located at 130 South Linden Street. It is across a driveway from the Mary and Frances Youth Center, and across from the Cary Street Gym. Call 804.828.6004 to reach the ORC directly.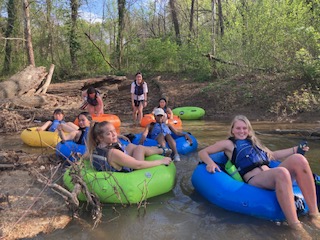 - A current photo ID is required to rent equipment
- The ORC accepts credit card and checks only - we do not accept Apple Pay or cash.
- Reservations as NOT available for individual patrons. All equipment is first come, first-serve. VCU or community groups may inquire about larger rentals at outdoors@vcu.edu.
- Rental periods are: Monday - Wednesday, Wednesday - Friday, Friday - Monday. Rentals over 1 week are by special approval from OAP Professional Staff only, by emailing outdoors @vcu.edu.
ORC Equipment Rental Equipment Catalogue